November 30, 2021 | 6:00PM - November 30, 2021 | 9:00PM
Sandman Signature Hotel
10235 101 Street
Edmonton AB T5J 3E9
Canada
The next in-person conference is being planned for Edmonton on November 14-16, 2021 at the Sandman Signature Hotel.  A decision as to whether this can go ahead safely will be made by August 9th.
We are very excited about the prospect of being able to get together in the same room and have a conference this year (depending on advice from government and provincial health authorities, of course)!  Our speakers are lined up and we are focussing on rebooting the moving industry after a very tough run with COVID-19.  We'll have more information later, but make sure you circle November 14th to 16th in your calendar and plan to join us.
Image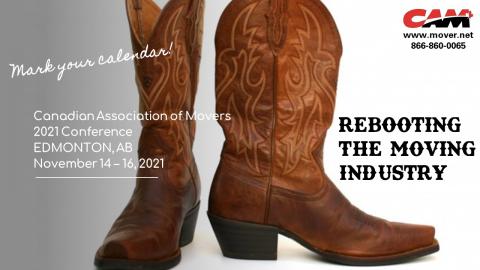 Don't forget the all-important social aspect of the conference!   There will be plenty of opportunities to mingle and meet new folks or catch up with those you haven't seen in two years.  With the assistance of Edmonton Tourism, activities are being planned for Saturday night (for those of you coming in early), our Sunday welcome night, Monday's NFP night, and of course Tuesday night's celebratory banquet.
We'd like to thank our sponsors who have generously continued to support us through these crazy times.
Image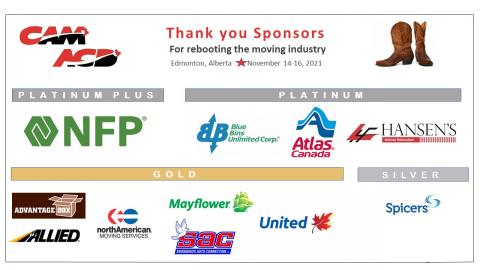 When:
November 14-16, 2021 (TBC)
We're planning something for Saturday night if you are flying in early.
Where:
Sandman Signature Hotel Edmonton (formerly Sutton Place Hotel)
10235 101 Street, Edmonton, AB T5J 3E9
Registration:
Registration will be available once the OK has been given to safely hold the conference. (August!)
Topics:
We're very excited about our lineup of speakers and subject matter as we reboot our industry for post-pandemic long-term success:
Toronto lawyer Rocco Scocco - Defending victims of moving fraud (and a whole lot more)

Service Alberta and BBB's Mary O'Sullivan-Andersen - Consumer complaints and consumer relations - what we can do as an industry

Todd Hirsch of ATB Financial (Alberta Treasury Branch) - Economic outlook - what now?

David Ogilvy, NFP -  Insurance challenges now & in the future

Selling, buying, or diversifying your company - making tough choices         

Angela Splinter, CEO, Trucking HR Canada - The labour crisis 
Exhibitors:
Once we have confirmed in August that the conference is going ahead and have configured the trade show space, an exhibitor's package will be available.  
Sponsorship:
Sponsorship is open!  Get a head start by promoting your company, its products, or services by sponsoring the conference. Thanks to all who have already stepped up with their support.  Here's our Sponsorship Package: