September 30, 2023 | 11:00AM - September 30, 2023 | 6:00PM
Carlisle Golf Club
523 Carlisle Road
Carlisle ON L0R 1H0
Canada
CAM's 27th annual golf day at the beautiful Carlisle Golf Club will be spectacular!
Registration for our 27th annual golf day will be open soon. 
Split tee times between 12 noon and 1 p.m. with a post golf reception and dinner as well as the popular draw, where everyone gets a prize.
Don't golf? No matter! Come and hang out with the movers and suppliers and enjoy all of the benefits of the day without losing any golf balls. Or just join us for the 19th hole reception and dinner. Many do. Check in with us to learn more about non golf.
Any day on a golf course is better than being in the office.
When:
September 11, 2023
Dedicated split tee times between 12 noon and 1 pm.  After 18 holes, join us for cocktails and the "Belly Busting Buffet" which is finally back after a two-year hiatus.
Where:
Carlisle Golf Club
523 Carlisle Rd., PO Box 30
Carlisle ON L0R 1H0
Image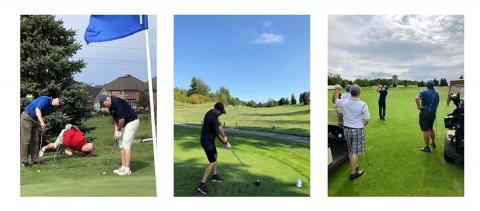 Registration:
Registration for 2023 will be open soon. Lunch and post-game meal will be included with cart and prizes.
Sponsorship:
Would you like to sponsor any prizes or provide support to CAM? We have a variety of options to suggest, unless you have a great idea of your own. Sponsorship is a great way for you to promote your company, and its products or services. COVID-19 limitations have been lifted, so we are back to including sponsorship signage and on course activities into the mix. Here's a form to show your support: