News Updates on the Vaccine Roll-out Relating to the Trucking Industry
News is fast and furious these days and changing frequently.  We will do our best to keep this updated with various provincial and federal plans for vaccine roll-out (as it pertains to the trucking industry).


*new* Montana to Vaccinate Alberta Truckers
May 7, 2021 - Alberta and Montana have reached an agreement to speed up the vaccination of Albertans by inoculating truckers who transport essential goods across the Canada-United States border.  Alberta commercial truck drivers who are regulated to transport goods into the United States will be able to receive a COVID-19 vaccine. About 2,000 Alberta truck drivers are eligible.  Click here for more info.


*new* Ontario in discussion with Michigan to vaccinate truck drivers
May 6, 2021 - The Ontario government is reportedly working with the state of Michigan to discuss partnering to vaccinate Ontario based cross-border truck drivers. Read more here.
All adults (18+) in Québec to be eligible for vaccine appointments by May 14th - Ontario by May 24th. BC not far behind!
April 29, 2021 - The Québec government announced today that "there is no doubt that we will meet our objective by June 24th."  The objective?  To give the first dose to all adult Québecers who wish to receive a vaccine by June 24th.  Ontario has also ramped up phase 2 of their vaccine plan that all eligible Ontario adults 18+ can book a shot by May 24th.   British Columbia promises all adults will have their first jab by mid June.
North Dakota is extending vaccines to Saskatchewan truckers
April 28, 2021 - Beginning today, Saskatchewan truck drivers can be vaccinated at the rest area near Drayton, N.D., where Manitoba drivers have been receiving their vaccinations. Read more
Rapid tests for COVID-19 screening in the workplace
April 14, 2021 - The Government of Canada is launching new efforts to increase the availability of rapid test kits for Canadian workers.  
This initiative complements provincial and territorial activities. Its goal is to:
increase rapid test availability as a screening tool for Canadian workers
help Canadian organizations better protect their employees and customers
provide another tool to reduce community transmission and keep the economy running
Premier Kenney announces Alberta's vaccine rollout plan to speed up
April 12, 2021 - All Albertans in Phase 2B of the province's COVID-19 vaccine rollout plan are now eligible to book a vaccine appointment.  Premier Jason Kenney announced the changes to speed up the vaccine distribution Tuesday while at the same time announcing additional public health restrictions to once again slow the spread of COVID-19, particularly variants of concern.
Kenney has stated that all adult Albertans will have been offered at least the first dose of vaccine by the end of June.  Still no word if truckers/transportation essential workers will be moving up the queue.
Which COVID-19 vaccine is better? (spoiler, they're all good)
April 5, 2021 - Dr. Samir Gupta explains how the four COVID-19 vaccines now approved in Canada (Pfizer, Moderna, AstraZeneca, Janssen) work and why efficacy rates aren't the most important number to look at.  Have a look at this short and informative video.
Pfizer moving up deliveries to Canada
March 30, 2021 - Prime Minister Trudeau announced this morning that 5 million doses of the vaccine, slated to arrive later in the summer, will now be in Canada in June.
Want to learn more about Vaccines?
March 30, 2021 - There will be a Facebook live event on March 31, 2021 at 1:00pm ET with Dr. Tam, Dr. Njoo, Dr. Sharma and Dr. Adams, answering top questions about the safety and efficacy of Canada's 4 vaccine options.  Click here to join, or check out the Healthy Canadians Facebook page for more details.
NB Class 1 drivers can now get vaccinated!
Mar 24, 2021 - The government of New Brunswick has just announced that Rotational workers, regular cross-border commuters and truckers (class 1) are now eligible to schedule their vaccination appointment at a pharmacy for a Covid-19 vaccine.
Register through a participating pharmacy    S'inscrire auprès d'une pharmacie participante
According to the press release, truck drivers can use a Class 1 licence to demonstrate eligibility.  There was a question on Facebook asking the government about Class 3 licences.  At the time of sending this off, the question had not been answered yet.
No other information about vaccinating trucking/moving crews was announced.
Press release:
English: https://www2.gnb.ca/content/gnb/en/news/news_release.2021.03.0230.html
En français: https://www2.gnb.ca/content/gnb/fr/nouvelles/communique.2021.03.0230.html
CAM note: It's unclear whether or not proof of employment in an essential business will be required when your employees go for their priority vaccination. CAM has put together a sample letter that you might want to adapt for your employees on your letterhead. It is very important that you have detailed contact information – name, address, contact details - on this letter, along with your logo and business name. Make sure it looks official!
EU moves toward stricter export controls for COVID-19 vaccines
March 24, 2021 -  The European Union is moving toward stricter export controls of exports of vaccine doses to countries outside the EU bloc in order to ensure that there are more COVID-19 shot supplies available in Europe.   According to International Trade Minister Mary Ng's office, "these measures will not affect vaccine shipments to Canada, and our government has been in constant contact with our counterparts in the EU and its member states at all levels of government".  The move, apparently, is to retaliate against Britain, which has been accused of hoarding vaccines.  Read more here.
Canada COVID-19 Vaccination Website English and en Français
Provincial vaccine websites below in EN and FR where available
Canada's Two New COVID-19 Vaccines: What You Should Know
Mar 7, 2021 - An update from Canada's Chief Medical Officer Dr. Theresa Tam    Click here
Feb 18, 2021 - New Brunswick updates its COVID-19 Vaccination Plan
Truckers have been included in the April-May 2021 vaccination phase. Details will be issued in the coming weeks.
Image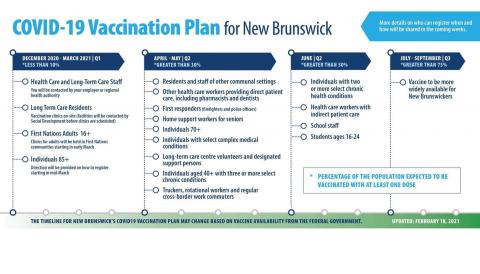 Canada vaccinated by September - still on course
Feb 26, 2021 - Prime Minister Trudeau confirmed today that there is enough vaccine ordered and scheduled for delivery (from a variety of suppliers) that all Canadians that want to receive the COVID-19 vaccination will be able to do so by September, with the second phase beginning in earnest in April.   CAM has sent a letter to each province's Chief Medical Officer (copied to the corresponding Premier) requesting that our members be considered in the prioritized essential workers' group during phase 2.
update - Jan 19, 2021 - the Prime Minister reiterated today that, despite the vaccine supply delay, all Canadians who want to be vaccinated can be by September. 
On February 9th, the Prime Minister confirmed that vaccinations are now back on track and will begin again in earnest in the coming weeks as vaccine supplies are now available.
Provincial Vaccination Websites - Transportation/Truckers/Movers specifics (as of March 8/21) noted 
Alberta - EN only  
British Columbia - EN only
Manitoba  - EN
Manitoba - FR
New Brunswick  - EN    April-May: Truckers
Nouveau Brunswick  - FR
Newfoundland & Labrador - EN  April - June: truck drivers and essential workers working during Alert level 5
Nova Scotia - EN   Phase 2: truck drivers who travel regularly in and out of the province
Nova Scotia - FR
Nunavut - EN
Nunavut - FR
Ontario - EN  April - July: transportation, warehousing and distribution workers
Ontario - FR
Prince Edward Island - EN  April - June: frontline essential workers who cannot work virtually
Prince Edward Island - FR
Québec - EN
Québec - FR
Saskatchewan - EN
Saskatchewan - FR
Yukon Territories - EN
Yukon Territories - FR