News Updates on the Vaccine Roll-out Relating to the Trucking Industry
News is fast and furious these days and changing frequently.  We will do our best to keep this updated with various provincial and federal plans for vaccine roll-out (as it pertains to the trucking industry).
Canada COVID-19 Vaccination Website English and en Français
Provincial vaccine websites below in EN and FR where available
*new* Canada to receive 6.5 million doses of approved vaccines by end of March 
Feb 26, 2021 - with the approval of two move vaccines today by Health Canada, Procurement Minister Anita Anand announced that Canada is getting back on track and will receive 6.5 million doses of approved vaccines by the end of March.
Feb 18, 2021 - New Brunswick updates its COVID-19 Vaccination Plan
Truckers have been included in the April-May 2021 vaccination phase. Details will be issued in the coming weeks.
Image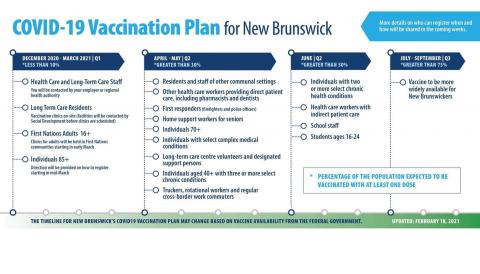 Canada vaccinated by September - still on course
Feb 26, 2021 - Prime Minister Trudeau confirmed today that there is enough vaccine ordered and scheduled for delivery (from a variety of suppliers) that all Canadians that want to receive the COVID-19 vaccination will be able to do so by September, with the second phase beginning in earnest in April.   CAM has sent a letter to each province's Chief Medical Officer (copied to the corresponding Premier) requesting that our members be considered in the prioritized essential workers' group during phase 2.
update - Jan 19, 2021 - the Prime Minister reiterated today that, despite the vaccine supply delay, all Canadians who want to be vaccinated can be by September. 
On February 9th, the Prime Minister confirmed that vaccinations are now back on track and will begin again in earnest in the coming weeks as vaccine supplies are now available.
Provincial Vaccination Websites
Alberta - EN only
British Columbia - EN only
Manitoba  - EN
Manitoba - FR
New Brunswick  - EN
Nouveau Brunswick  - FR
Nova Scotia - EN
Nova Scotia - FR
Nunavut - EN
Nunavut - FR
Ontario - EN
Ontario - FR
Prince Edward Island - EN
Prince Edward Island - FR
Québec - EN
Québec - FR
Saskatchewan - EN
Saskatchewan - FR
Yukon Territories - EN
Yukon Territories - FR