Originally formed in 1969, the Canadian Association of Movers is Canada's trade association representing household goods moving and storage companies. Along with movers and relocation companies in our nation and internationally, our members also include companies that supply vital programs and services to and within the household goods industry.
Image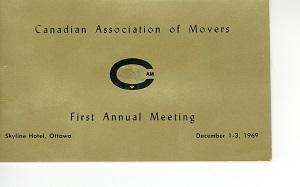 As CAM reflects on our first fifty years, we came across this message from Randy Hoyt, CAM Chairman from November 2000 – November 2002 in one of the early issues of The Canadian Mover magazine.  It is worth reprinting here as we look back on CAM's past and ponder its future.
Better Together – Past, Present and Future!
By Randy Hoyt, CAM Chairman, 2000 – 2002
In this, my last "Chairman's Message," I would like to express my thoughts on CAM, our forefathers, and our need to continue paving the way for our industry.
To my knowledge, the first Canadian moving and storage industry association was in fact one of three divisions – the Moving and Storage Conference, the Warehousing Division, and the Cold Storage Division – under the umbrella of The Canadian Warehousing Association. When my father was 16 years old (in the early 1950s), he attended his first CWA convention, with my grandfather in Vancouver. Movers from across Canada had gathered to work together on a wide and diverse variety of issues, including the legal wording on provincial warehousing documents, motor carrier regulations, employee compensation, and pricing formulas. These conventions were grand, gala-type functions, recognized by all as a networking must, where the exchange of ideas truly formed business opportunities.
By the mid-sixties, my father, as Chairman of the Moving and Storage Conference, faced somewhat different issues, with, for example, the advent of van lines, more governmental regulations, and increased use of highway versus rail transportation; we were also in the fifth year of an ongoing anti-combines investigation. However, the CWA conference was still the social event of the year for most Canadian movers, and the exchange of ideas and information, through an exceptional networking venue, was considered essential to business success in our industry.
Through the 1970s, our association changed (primarily due to pressure from the still-ongoing anti-combines investigation), and we became known as the Canadian Association of Movers, with a separate organization known as the Canadian Household Goods Carriers Tariff Bureau Association. These two successor organizations continued to act on behalf of the industry, working on a variety of issues, which included regulated tariffs and industry accreditation courses. No different than in the past, the networking and sharing of information on many industry topics was considered by many to be essential to ongoing success in our Canadian business environment.
The net result in the 1980s of the anti-combines investigation was the end of the Tariff Bureau Association's practice of tariff and pricing regulation. In fact, the repercussions over the next several years ultimately caused the temporary demise of the Canadian Association of Movers. There were several attempts to organize a legally acceptable version of our industry association. During this time, the industry's ability to network was probably the area hardest hit. As a mover entering my business prime, I grew up loathing our competition (all but those in "our" van line), knowing full well that they must be crooks and swindlers on the fast road to demise.
In 1996, a competitor, Peter Naylor (who himself has a long personal and family history in our Canadian associations), wrote to me inviting me to join him at the Founding National Conference of CAM. Shortly thereafter, Peter bought me lunch (in my city) with the caveat that I hear him out on the necessity of a strong industry organization. He was very convincing, and with some prodding from my father, we once again joined our Canadian industry association – CAM. What an eye opener. The new people I was meeting were in fact likeable, successful and very entrepreneurial, and the environment created by and around CAM was one of education, industry integrity, and camaraderie.
Today's CAM has addressed many issues (both new and old), such as anti-combines legislation, industry training, diverse governmental regulations (federal and provincial), employment compensation, insurance and valuation, industry recognition programs, and third-party relocation companies. However, in my opinion, the best value by far is still gained through attendance at our annual conference, where, through a first-class networking venue, we gather to celebrate our industry and subsequently participate in the willing exchange of ideas and information.
In summation, I would like to leave just one thought, taught to me by several generations of proud Canadian movers, and which we must ensure gets passed along to our future generations, and that thought is very simply – "We are Better Together."
Thank you, CAM.
Reprinted from The Canadian Mover Fall 2002 issue.