CHOOSING A MOVER - WHO CAN YOU TRUST?
You are about to turn over all of your household possessions to a mover. Choosing the right mover can avoid serious emotional stress and inflated financial costs to you and your family.
WHAT'S THE RISK?
Cheap prices, unrealistic promises, ransom demands, extortion.
Yes, this can happen when you move if you don't research your mover. The Better Business Bureau (BBB) warns that "fly-by-night and no-name 'truck-for-hire' types can take advantage of the fact that consumers are under emotional, financial and time pressures when moving."1
The Toronto Police Service agrees. You need to be wary of the "criminal enterprise disguised as a moving company."2 Moving scams are becoming more sophisticated and often start by individuals who set up as 'move brokers' trolling you online and through social media.
Brokers don't own trucks, have offices, or even their own manpower, and certainly have no insurance or workplace safety certificates that leave consumers liable for any worker accidents in their homes. These con artists take no responsibility for the level of service delivered because they sell off the business to anyone who will agree to accept the order.
Scam operators "deliberately try to confuse the customer – estimate with one company, then a sister company comes and picks up the shipment, then the credit card is charged through a third company, so the consumer has no idea who has their things because they don't know who they are dealing with."3
Be certain that the company you choose does in fact have the resources to do the job.
RED FLAGS
Moving is more than relocating your belongings to a new home. It requires time, patience, money and trust. You should be on the lookout for operators:
without a physical address (so you can't find them)
who only accept cash (so you can't stop payment)
who don't put their promises in writing (so you can't prove anything)
who won't do a visual survey of your home to confirm the shipment size (so they can demand more money after pick-up).
IT'S YOUR RESPONSIBILITY
The Canadian moving industry is unregulated federally and each province has its own legislation regarding moving services. Scam operators (rogues) have learned how to skirt regulations and manipulate consumers to their advantage. The police remind you that "you really have to do your research when you are going to hire a moving company."4
Check out BBB and CAM references
Ask at least three movers for quotes
Get all promises in writing
Find out how and when payment is required
Ask your mover what happens if something is broken or lost
Image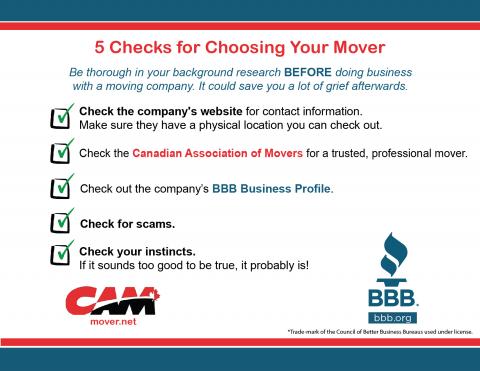 LOOK FOR BEST VALUE – NOT BEST PRICE
CAM wants you to verify that your mover is certified. "You are entrusting your entire lifelong belongings to someone you likely don't know. There are many factors to look at - not just price. Remember that the cheapest price might turn into the costliest move."5
If it looks and sounds too good to be true, it is. Buyer Beware! Why take the chance? Move with Certified Canadian Mover member of CAM.
OUR PLEDGE TO YOU
As a member of CAM's Certified Canadian Mover Program, we will deliver a professional moving service that is safe, timely, and fair in practice and cost. We abide by CAM's Code of Ethics and Canada's Good Practice Guidelines for Canadian Movers6 and want you to be confident in your choice of mover and the information provided to you.
CAM members, like us, work toward a common goal of fostering high standards of ethical conduct within the Association and throughout the industry and pledge to follow professional conduct guidelines.
1Mary O'Sullivan-Andersen, president and CEO of BBB Serving Southern Alberta and East Kootenay, 2019-04-30.
2Det. Kevin Hooper, Toronto Police Service, 2010-05-20, CNEWS "Cops haul in moving-scam suspects".
3Acting Inspector Ian Nichol, Financial Crimes Unit, Toronto Police Service, 2017-05-31 news conference.
4Acting Inspector Ian Nichol, Financial Crimes Unit, Toronto Police Service, 2017-05-31 news conference.
5Nancy Irvine, President of Canadian Association of Movers, 2019-04-30 press release.
6Developed by Canada's Office of Consumer Affairs and a committee of stakeholders from the moving industry.