CAM is Canada's only trade association representing moving and storage companies. Along with movers and relocation companies in Canada and overseas, our members also include companies that supply vital programs and services to and within the household goods industry.
Image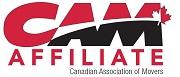 CAM Affiliate Members provide industry-related services, primarily to consumers, such as packing services or downsizing support. Affiliates DO NOT do houshold goods moving.  Affiliates bear CAM's Affiliate logo.
CAM Affiliate members promise to work toward a common goal of fostering high standards of ethical conduct within the Association and throughout the industry and promise to follow a guide to professional conduct. These members and their employees commit to abide by CAM's Code of Ethics.
Affiliates can explore our website for more information about CAM – how to join, its programs, its members, upcoming events.
To view CAM's affiliate members, check out our Supplier & Affiliates page.