We offer valuable info for movers and consumers, including important provincial links to vaccination and reopening websites.
For the latest Provincial & Territorial news, updates and travel advisories, visit CAM's Provincial & Territorial webpage.
Important!
Consumers: Consumers are facing delays and additional costs
July 22, 2021 *update*  While all below is still applies as we improve our vaccination rate and weave in and out of restrictions,
the moving industry is under tremendous pressure

this moving season with unprecedented demand, challenges with accessing moving materials (due to supply chain delays) and, like every industry in the world, labour shortages.  You may not be able to book a credible moving company on a specific date.  CAM recommends that you book your mover early and remain in contact with your chosen moving company on a regular basis so you can be apprised of any changes to your moving plan.

 
Also,
moving scams in Canada are on the rise

as unscrupulous operators take advantage of consumers when they are vulnerable and stressed over their move.  They take advantage of COVID by saying that they can't come and look at your move because they aren't allowed in your home.  That simply isn't true - there are many options to verifying how much you are moving.   The result can be unbearable painful for you - doubling or tripling your price (because the shipment was much larger than they expected), holding your items hostage until you pay exorbitant fees, massive damage to your items that will not be repaired or replaced, and unfortunately, theft.  We encourage you to do research on the moving company you are choosing by contacting CAM (see below - Search for a Mover) to get a selection of movers in your area that have been vetted and are considered certified professional movers.  You can read more about moving scams in our consumer alert section of the website.
(June 4, 2021) - Current lockdowns, travel restrictions, mandatory isolation requirements upon arrival in some provinces, or upon entering Canada, and labour demands are causing delivery schedule changes (mostly delays), as well as unexpected temporary storage requirements - all of these can result in additional costs and changes in plans that consumers will have to bear, possibly without any notice.  CAM recommends that you keep an open dialogue with your mover throughout your relocation, and to get any anticipated changes to your costs in writing so you have a clear understanding of the impact of any federal, provincial or local restriction being imposed. 
Movers: 
A reminder to movers to have your essential workers' paperwork, and all clients' moving documents, on hand with the drivers of the trucks passing through provincial borders.  This includes drivers who are driving through a province with no deliveries planned.

It's unclear whether or not proof of employment in an essential business will be required when your employees go for their priority vaccination. CAM has put together a sample letter that you might want to adapt for your employees on your letterhead. It is very important that you have detailed contact information – name, address, contact details - on this letter, along with your logo and business name. Make sure it looks official!
Image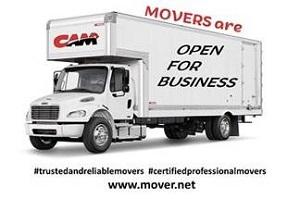 Canada-U.S. border update

- updated October 16, 2021
ENTRY INTO USA
U.S. confirms it will accept Canadian travellers with mixed vaccines
Oct 16, 2021 - Canadians with mixed vaccines and U.S. travel plans can breathe a sigh of relief. Following weeks of speculation, the United States confirmed late Friday it will accept mixed vaccines when new rules kick in on Nov. 8 requiring that foreign travellers entering the U.S. be fully vaccinated.   Read more here.
U.S. land border reopening to Canadians Nov. 8th:  What you need to know
Oct 14, 2021 - Starting Nov. 8, the United States will be opening its land and sea border to non-essential fully vaccinated Canadian travellers for the first time since March 2020.  While the Public Health Agency of Canada is still advising against non-essential international travel, the border reopening means that Canadians can drive into the U.S. to visit family, or take a day trip, something Canada has allowed fully vaccinated Americans to do since Aug. 9.  Proof of vaccination will be required.
ENTRY INTO CANADA
Entry into Canada - Testing required
Canadians entering by land won't have to take a COVID-19 test. However, when returning to Canada, all non-essential land and air travellers must show proof of a negative molecular test.
Along with showing proof of vaccination, air passengers will still have to show proof of a negative antigen or molecular test taken within three days of boarding their flight to the U.S.
Subject to limited exceptions, all travellers must use ArriveCAN (app or web portal) to submit their travel information. If they are eligible to enter Canada and meet specific criteria, fully vaccinated travellers will not have to quarantine upon arrival in Canada.
ArriveCAN links
ALL travellers (including essential workers, such as truck drivers) arriving at a Canadian border, by LAND, sea or air, MUST use the "ArriveCAN" app on their smartphone (or online) PRIOR to reaching the border.  Download the ArriveCAN app for free on Google Play and Apple App stores.  The app is also accessible on the web.
A note to drivers crossing the border
Truck drivers who do not comply with the mandate at Canadian ports of entry may be issued significant fines by PHAC or other law enforcement organizations who have the ability to enforce the Quarantine Act. The verbal declaration to a Border Services Officer is only a temporary measure to allow the trucking industry to transition to the electronic ArriveCAN platform.
ArriveCan data can be submitted 72 hours in advance of cross border travel, allowing for greater flexibility in meeting this requirement.
The Government of Canada has also stated its intent to align with the European Union and other nations on the use of digital proof of vaccination to allow greater mobility for international travellers, while ensuring public health remains the top priority. Although the use of ArriveCAN to digitally store and present proof of vaccination has been mentioned by federal officials, no formal announcement has been made yet regarding the use of "vaccine passports" or its potential implications on travellers, such as truck drivers.
CBSA has confirmed that it is business as usual for clearing customs and crossing the border.  Some members are issuing letters to their customers to take to customs with them (just in case) that states: 
"that it is a Federal requirement that an Importer of personal effects MUST arrive in person to CBSA (Canada Border Service Agency) for an interview.  The customer must carry a Passport, along with the other necessary documents, required by the CBSA to clear their goods with customs.  It is also a requirement that prior to this action, the person clearing the goods, should have been in quarantine for 14 days."
Movers be prepared...
It will be useful for your employees to have a letter on your letterhead (with a supervisor's name and phone number, or the Transport Canada / CAM letter) that indicates that they are traveling for essential work purposes. 
Drivers must show proof of double vaccination to enter into the US or back into Canada.
Continue to maintain all standard health protocols that were put in place since COVID hit, including your customer and employee health checks; and provision of masks (and other PPE), hand sanitizer, gloves and wipes.  You are mandated by the Ontario government to screen any workers or essential visitors entering your work environment.  Consider purchasing a temperature gun and record the employee's temperature each day.
If there is anyone who can work from home, please do so.
There are more inspectors from the Ministry of Labour doing unannounced workplace inspections.  Be prepared - non-compliance can result in huge fines.
COVID-19 benefits and business supports about to end on October 23rd
July 30, 2021 - Deputy Prime Minister and Minister of Finance, the Honourable Chrystia Freeland, and the Honourable Carla Qualtrough, Minister of Employment, Workforce Development and Disability Inclusion, announced the extension of crucial COVID-19 support measures for Canadians and Canadian businesses in recognition that uneven economic reopening across regions and sectors means workers and businesses continue to need support. These extensions include:
Extending the eligibility period for the Canada Emergency Wage Subsidy, the Canada Emergency Rent Subsidy and Lockdown Support until October 23, 2021, and increasing the rate of support employers and organizations can receive during the period between August 29 and September 25, 2021.

Extending the Canada Recovery Benefit (CRB), the Canada Recovery Caregiving Benefit (CRCB), and the Canada Recovery Sickness Benefit (CRSB) until October 23, 2021.

Increasing the maximum number of weeks available for the CRB, by an additional 4 weeks, to a total of 54 weeks, at a rate of $300 per week, and ensuring it is available to those who have exhausted their employment insurance (EI) benefits.
Click here for more specifics.
General Advice
CAM and the moving industry are equally concerned about the spread of the coronavirus during any step of the move process, particularly as we are now in the busy season and areas throughout the country are beginning to open up with various degrees of restriction.  We have to protect our customers, our crews and coworkers, and be especially mindful of the vulnerable sector or our community – the elderly and those with health deficiencies that make them more susceptible to viruses. 
CAM continues to closely monitor COVID-19 and the response from all health agencies, as well as the Canadian government, as they provide updates on the latest developments with respect to this virus. We are closely monitoring the risks faced by our moving crews and staff whether it be at the office, in public gatherings, in our trucks, or at the customer's residence or worksite. 
Remember, movers are open for business!  Keep in touch with your clients and remind people on social media that you can help them plan their move now, so they're ready when it's time.
Essential Services
All movers in each province and territory are open for business!  With the real estate boom, demand for movers has never been higher.  Book your mover early and do your research on who you hire as there are companies who are only interested in taking advantage of the pandemic and are scamming unsuspecting customers.  To find a certified, professional mover near you, visit CAM's home page to access our mover search function.  We can help you before you move.  We can't after you've been scammed.
Moving Locally? – Moving services have been reduced. You may find that some companies are limiting the number of crews in a truck to 2 men and may have two trucks show up at your home.  You may be moving to or from an apartment or condo that restricts access or limits elevator use, which could cause your move to last much longer than you expect.  As the consumer, you will have a responsibility to provide a safe environment for the moving crews to work in.  Please make sure you understand how your move will operate, so there are no surprises on move day.   Have a look at the consumer tips in our COVID Consumer Information to help you plan.
Moving a longer distance? – Moving services have been reduced. Some province-to-province restrictions remain in place.  While professional moving companies are allowed to move freely around the country, you may find yourself having to quarantine and will have to make arrangements for the delivery of your household goods.  Continue communicating with your mover regarding delivery times as there may be a delay due to demand.  Read our moving information on how to plan for this relocation.
Moving into an apartment or office building? Connect with the building manager to confirm their protocols regarding entry into the building and elevator use at this time.  Make sure that you communicate clearly with your movers, so as to not cause delays or last minute alterations that could affect your moving price.
Moving to or from the USA? – Moving services have been reduced.  With the U.S. opening the land border to Canadians on November 8, 2021, there will be vaccine requirements to enter.   Please confirm your entry requirements, based on residency status as well as vaccination status PRIOR to entry, so you are aware of current allowances.  Only essential or urgent travel is being permitted as well as the transit of goods. Cross-border household goods transportation is "business as usual" and household movers are not being restricted.  However, be absolutely clear of the paperwork and your permit requirements you will need to make sure you can get across the border.   Without proper paperwork, moving companies cannot take the goods across. 
Beginning February 15, 2021, you now need a negative PCR test before crossing into Canada.  As well, if moving to Canada, you will need to download ArriveCAN and fill out all information required prior to arriving at the border.  
All of North America is feeling the strain of supply chain and labour shortages and CAM strongly suggests that you work with your moving company to see how that affects your move. Also communicate with your mover regarding delivery times as there may be a delay due to demand.
If you are paying in $CAD, the final charge will be based on the current rate of the dollar, which is fluctuating at this time.
On April 14, 2021, the Public Health Agency of Canada (PHAC) issued a news release to update Canada's mandatory requirements for travellers entering Canada. The Order came into force one minute after midnight on April 15, 2020. "Certain persons who cross the border regularly to ensure the continued flow of goods and essential services, or individuals who receive or provide other essential services to Canadians, are exempt from the requirements to quarantine themselves, as long as they do not have symptoms of COVID-19 upon entry in Canada." Furthermore, "persons exempt from mandatory quarantine are still required to wear an appropriate mask or face covering upon entry into Canada and while in transit, and should otherwise respect the intent of the Order to minimize the spread of COVID-19 in Canada." Customers moving across the border into Canada are subject Canada's mandatory 14-day quarantine so they should plan accordingly for the receipt of their household goods. Further to the PHAC announcement that all essential workers crossing the Canada-U.S. border — including truck drivers — must wear a non-medical mask or face covering, Transport Canada is offering additional guidance for vehicle operators who wear face coverings to help minimize the spread of COVID-19.
Moving internationally? – Moving restrictions are in place.  All countries have some form of restrictions in place and thus there are unique challenges being experienced with their shipments.  If customers have not yet arrived, or are in self isolation, many of our members are offering bonded storage until the customers are able to clear customs and receive their shipments.  As well, many of our members are offering to keep the shipments in storage in Canada for the time being because the situation is so fluid and it is unknown what implications can be experienced at the destination. It is critical that customers keep in touch with their movers at this time and understand that countries are responding daily to the degree of virus there is, not only in their own country, but also incoming countries, and thus, there are huge variances on restrictions.  
Frequently Asked Questions
For detailed Frequently Asked Questions, click here.
The Canadian Association of Movers (CAM) is a non-profit trade association that does not dispense legal or business advice. Any ideas, concepts, or theories that are discussed should be reviewed by your own legal counsel. Issues related to the coronavirus are evolving rapidly and what may be accurate today could be outdated tomorrow.
News Image