Update:  April 20, 2021 (multiple updates)
We offer valuable info for movers and consumers, including important news from the government.  Check back frequently for breaking news.
Image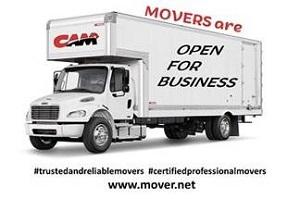 *new* Manitoba announces the Essential Workers Cross Border Vaccination Initiative
April 20, 2021 - Manitoba Premier Brian Pallister has just announced a joint initiative between Manitoba and North Dakota to vaccinate Manitoba based essential workers that are transporting goods to and from the United States.  The Essential Workers Cross Border Vaccination Initiative is going to begin with truck drivers that regularly cross the Canada US border.   
"Beginning tomorrow (April 21, 2021), the state of North Dakota will provide COVID-19 vaccines to fully immunize Manitoba based truck drivers during their routine trips to the United States and over the next 6 – 8 weeks conclude with the second vaccine and they will be doing that thanks to the government of the United States of America free of charge. And we say thank you."
Working with the Manitoba Trucking Association, Manitoba and North Dakota will identify and coordinate with eligible individuals to schedule vaccination appointments.  It is estimated that as many as 4,000 Manitoba truck drivers will be taking part in this program.  Pallister has written to the Prime Minister, as well as all provincial and territorial counterparts, in hopes of laying the groundwork for others for an eventual reopening of our shared border.  Read more here
*update* Canada-U.S. border closure extended to at least May 21st, 2021
Apr 20, 2021 - Public Safety Minister Bill Blair says Canada's international and U.S. border restrictions will be in place for another month, at least.  In a pair of announcements made Tuesday, Blair said that Canadian and U.S. officials have agreed to keep the border between the two countries closed to non-essential travel, as well as the existing restrictions on non-U.S. international travel into Canada will be extended until May 21.  Read more here
*new* Nova Scotia restricting incoming to essential travelers only
April 20, 2021 - Nova Scotia is placing additional restrictions on travel to the province, Premier Iain Rankin and Dr. Robert Strang, Nova Scotia's chief medical officer of health.  Effective April 22 at 8 a.m., people from outside Nova Scotia, Prince Edward Island and Newfoundland and Labrador will not be allowed to enter Nova Scotia unless their travel is essential or they are permanent residents of Nova Scotia.
Moving to NS?   You must be able to demonstrate that you already have a new permanent address in Nova Scotia as of April 21 and are moving here permanently.  Read more here
*new* Federal Budget Initiatives Announced
April 19, 2021 -  Finance Minister/ Deputy Prime Minister Chrystia Freeland announced in the federal budget the following:
- Canada Emergency Wage Subsidy (CEWS) will be extended for 3 months to September 25, 2021, with gradual rate decreases beginning July 4th.   The same date extension will apply to the Canada Emergency Rent Subsidy (CERS) and lockdown supports. 
- Canada Recovery Benefit (CRB) has been extended 12 more weeks to a maximum of 50 weeks.  After July 17, 2021, the CRB drops from $500 per week to $300 per week.  
- Introduction of the new Canada Recovery Hiring Program that will run from June 6th to November 20th to help employers rehire workers.  Though if they use this program employers can't use CEWS.
*new* PEI Sidelining Truck Drivers for COVID testing until May 17th
April 19, 2021 – Effective immediately, until at least May 17th, truck drivers who work outside Atlantic Canada will be required to self isolate until they receive their first negative covid test after arriving in PEI, regardless of their vaccination status.    This is just breaking, so we don't know anything else about that at the moment.  We suggest you monitor https://www.princeedwardisland.ca/en/covid19 for details.
Pre-Travel approval for permanent relocation related to work or school will continue to be processed from now until May 17th.  Anyone with pre-travel approval will be required to have proof of a negative COVID test within 72 hours of arriving in PEI.  Then 14 days of self isolation with several testing days of 0-1, 4-6, and 9-11.    As always, have open communication with your moving company and prepare a plan for arrival on the Island.
*new*  ALL LONG DISTANCE DRIVERS - ON going into severe lockdown with inter-provincial border restrictions
April 16, 2021 - Ontario Premier Doug Ford announced this afternoon that Ontario is going into a more severe - and prolonged - stay at home order.  The emergency declaration has been extended another 2 weeks and will continue until the third week of May.  While there are a number of measures being taken, movers should be aware that checkpoints will be set up as of 12:01 am Monday, April 19th at all interprovincial borders, limiting incoming access to border crossing from Manitoba and Québec to work, medical care, transportation of goods and exercising treaty rights.
A reminder to movers to have your essential workers' paperwork, and all clients' moving documents, on hand with the drivers of the trucks passing through these borders.  This includes drivers who are driving through Ontario with no deliveries planned.
update - April 19, 2021 -  While Ontario imposed new interprovincial travel restrictions in an effort to slow the surging COVID-19 variants that are putting increasing strain on Ontario's hospital system, Quebec has enacted similar rules for its western border with Ontario.  As of April 19th, Quebec is requiring anyone returning to their primary residence from Ontario to isolate for 14 days unless they fall under one of several listed exceptions.  Read more here.
Premier Kenney announces Alberta's vaccine rollout plan to speed up
April 12, 2021 - All Albertans in Phase 2B of the province's COVID-19 vaccine rollout plan are now eligible to book a vaccine appointment.  Premier Jason Kenney announced the changes to speed up the vaccine distribution Tuesday while at the same time announcing additional public health restrictions to once again slow the spread of COVID-19, particularly variants of concern.
Kenney has stated that all adult Albertans will have been offered at least the first dose of vaccine by the end of June. Still no word if truckers/transportation essential workers will be moving up the queue.
Ontario hitting warehouses with COVID safety inspections
April 8, 2021 -  The Ontario government is launching a series of zero-tolerance workplace safety inspections in sectors and regions hardest hit by Covid-19, beginning with warehouses, food processors and manufacturers in Peel and Halton Regions.  On Friday April 9, officers will be checking for compliance with Covid-19 health and safety requirements under the Occupational Health and Safety Act and the Reopening Ontario Act (ROA) to ensure appropriate physical distancing, screening, and masking.  Read Inside Logistics' article here.
Ontario Health updated its COVID-19: Guidance for Prioritization of Phase 2 Populations for COVID-19 Vaccination on March 23rd, 2021
April 8, 2021 - Under Ontario's Ministry of Health's revised prioritization plan for vaccinating Phase 2 populations, our industry's "transportation, warehousing and distribution workers" are being included in the Second Group of Essential Workers Who Cannot Work From Home (see page 19). The current estimation is that these folks will have received vaccines by the end of May. Here's the Phase 2 Prioritization report.
Ontario imposes Stay-at-Home Order as of 12:01 am Thursday, April 8
April 7, 2021 - Ontario Premier Doug Ford announced today that the entire province will be going into a stay-at-home order which will go into effect at midnight and will last, at minimum, 4 weeks with the rapid and alarming increase of COVID-19.  "Unless it is for an essential reason, stay home!," said Ford.  Only essential businesses will be open.  "These next four weeks are absolutely critical," Ford concluded.
All Ontarioans over 60 can now book their vaccine appointments by logging onto www.ontario.ca/covidvaccine or by calling 1-888-999-6488   Anyone 55+ can get a vaccine at a designated pharmacy.  Visit www.ontario.ca/pharmacycovidvaccine to find a neighbourhood pharmacy.   40% of Ontarioans should be vaccinated by the end of the stay-at-home order.
There is still no word on where movers fit in the essential workers vaccine rollout.
Medical masks to be mandatory in Quebec workplaces as of April 8
April 7, 2021 -  Medical masks will be mandatory in all workplaces in Quebec starting April 8.  The masks must either be surgical or approved by Quebec's standardization bureau.  In other words ... not cloth.
The province's workplace safety board (CNESST) made the announcement Wednesday morning, calling the new guidelines a precaution against the "threat of COVID-19 variants, which are highly contagious."
Indoor mask wearing will be mandatory, along with existing protocols for physical distancing and barriers in the workplace.  The measure also applies outdoors, if workers are likely to come within two metres of each other.  Click here for more information.
Canada Recovery Sickness Benefit
April 6, 2021 - Prime Minister Trudeau reminded Canadians today that "no one should be going to work sick right now."  The Canada Recovery Sickness Benefit (CRSB) gives income support to employed and self-employed individuals who are unable to work because they are sick or need to self-isolate due to COVID-19, or have an underlying health condition that puts them at greater risk of getting COVID-19. 
If you are eligible for the CRSB, you can receive $500 ($450 after taxes withheld) for a 1-week period.
If your situation continues past 1 week, you will need to apply again. You may apply up to a total of 4 weeks between September 27, 2020, and September 25, 2021. 
To find out more about the CRSB, click here
Which COVID-19 vaccine is better? (spoiler, they're all good)
April 5, 2021 - Dr. Samir Gupta explains how the four COVID-19 vaccines now approved in Canada (Pfizer, Moderna, AstraZeneca, Janssen) work and why efficacy rates aren't the most important number to look at.  Have a look at this short and informative video.
Ontario pulling the emergency brake on Saturday, April 3rd for at least 4 weeks
April 1, 2021 - This is not an April Fool's joke. Premier Doug Ford announced this afternoon that as of 12:01 a.m. on Saturday, April 3, 2021, Ontario will pull the emergency brake.  All 34 health units will shut down for 4 weeks due to the increase and spreadability of the new variants.  More information on what is affected can be located at Ontario's covid zones and restriction site 
Moving Companies provide essential services and will remain in action throughout this shutdown.  Health and safety protocols will remain in effect.  Contact your moving company to discuss your situation, should you have concerns.
Three Quebec cities to go into special lockdown, with four regions reversed to red zones
March 31, 2021 - Quebec Premier François Legault announced Wednesday that four regions, after having their COVID-19 restrictions eased recently, will have that move reversed, while three cities will have what amounts to a shelter-in-place order.  The Outaouais, Quebec City, Chaudière-Appalaches and Bas-St-Laurent regions will all move from orange to red zones under the province's alert system as of Thursday at 8 p.m.  The three cities -- Quebec City, Lévis, and Gatineau -- are showing such alarming signs that the province is putting them on a 10-day lockdown, with schools and all non-essential businesses closed. Children will go to full-time remote learning.  That lockdown will also start Thursday at 8 p.m. and will last until April 12.  Read more here.
Moving services will continue in all of these areas while adhering to current health and safety protocols.  Check with your moving company if you have any questions or concerns.
Pfizer moving up deliveries to Canada
March 30, 2021 - Prime Minister Trudeau announced this morning that 5 million doses of the vaccine, slated to arrive later in the summer, will now be in Canada in June.
Stronger province-wide restrictions announced in British Columbia 
March 28, 2021 - Between March 29 at 11:59 pm and April 19 at 11:59 pm British Columbia is strengthening province-wide restrictions.  You can read more about them here; however, please note that this does not affect anyone who is moving.  BC moving companies provide essential services and will be able to continue with your move with covid health and safety protocols in place.  If you have questions about moving in BC during this time, please contact your moving company.
NB Class 1 drivers can now get vaccinated!
Mar 24, 2021 - The government of New Brunswick has just announced that Rotational workers, regular cross-border commuters and truckers (class 1) are now eligible to schedule their vaccination appointment at a pharmacy for a Covid-19 vaccine.
Register through a participating pharmacy    S'inscrire auprès d'une pharmacie participante
According to the press release, truck drivers can use a Class 1 licence to demonstrate eligibility.  There was a question on Facebook asking the government about Class 3 licences.  At the time of sending this off, the question had not been answered yet.
No other information about vaccinating trucking/moving crews was announced.
Press release:
English: https://www2.gnb.ca/content/gnb/en/news/news_release.2021.03.0230.html
En français: https://www2.gnb.ca/content/gnb/fr/nouvelles/communique.2021.03.0230.html
CAM note: It's unclear whether or not proof of employment in an essential business will be required when your employees go for their priority vaccination. CAM has put together a sample letter that you might want to adapt for your employees on your letterhead. It is very important that you have detailed contact information – name, address, contact details - on this letter, along with your logo and business name. Make sure it looks official!
EU moves toward stricter export controls for COVID-19 vaccines
March 24, 2021 -  The European Union is moving toward stricter export controls of exports of vaccine doses to countries outside the EU bloc in order to ensure that there are more COVID-19 shot supplies available in Europe.   According to International Trade Minister Mary Ng's office, "these measures will not affect vaccine shipments to Canada, and our government has been in constant contact with our counterparts in the EU and its member states at all levels of government".  The move, apparently, is to retaliate against Britain, which has been accused of hoarding vaccines.  Read more here.
*update* Centre for Disease Control Guidelines bring hope for future
Mar 9, 2021 - The CDC in the USA has updated their covid guidelines to include some positive news now that vaccinations are coming along in earnest.  In the US, if you are vaccinated, you are able to:
gather without masks in small indoor gatherings if you've been vaccinated and others have been vaccinated.
be in a room without social distancing.  
gather with non-vaccinated folks without a mask as long as they are low risk and from the same household.

  
The CDC is still saying no nonessential travel and you should still wear a mask and social distance in public, whether you're vaccinated or not.  The CDC considers people fully vaccinated after two weeks from a person's last dose of vaccine (2 dose), or 2 weeks after the single dose of the J&J vaccine.
CAM note:  Canada is not at this point yet, but it sure nice to know it is on the horizon!
Canada's Vaccines - what you should know
Mar 7, 2021 - An update from Canada's Chief Medical Officer, Dr. Theresa Tam on the one year anniversary of the declaration of the pandemic.  Click here.
Canada to extend COVID-19 emergency wage and rent subsidies
Mar 3, 2021 - During a press conference on Wednesday, March 3rd, Prime Minister Justin Trudeau said that the Canadian Emergency Wage Subsidy (CEWS), the Canadian Emergency Rent Subsidy (CERS) and lockdown support measures, set to expire on March 14, will now be extended to June 5.  Read more
*update* Vaccination Rollout plans beginning to be announced
Feb 26, 2021 - With the approval of two more vaccines, Canada is revising its rollout plan today.   Each province will be rolling out its own vaccination plans.  As each area has different protocols, we are providing links for each province's vaccine websites.  Please click on our COVID-19 Vaccine page to learn more.  We will also be posting when essential workers - moving companies - can be vaccinated.  We're still a ways off for that though, so in the meantime, stay vigilant with your safety and health programs.
Canada-U.S. border closure extended to March 21, 2021 
Feb 19, 2021 - Minister Bill Blair announced this morning that the Canada-USA border will remain closed until at least March 21, 2021 "to protect citizens on both sides of the border".    Next month marks one year since the border was closed.
*Important* - Crossing the Border into Canada? New Requirements effective Monday, Feb. 22nd
Feb 19, 2021 - According to Public Health Canada websites and confirmed by CTA/OTA (see links below):
ALL travellers (including essential workers, such as truck drivers) arriving at a Canadian border, by LAND, sea or air, as of Monday February 22nd MUST use the "ArriveCAN" app on their smartphone (or online) PRIOR to reaching the border.
Unless, the government makes a last-minute exception/exemption for truck drivers, drivers that do not use this app face both delays and fines starting Monday.
Essential workers do NOT need to prove they had a negative Covid test, nor to complete the quarantine portion, but MUST complete the contact info and self-assessment portions.
Members are encouraged to download the ArriveCAN app for free on Google Play and Apple App stores.  The app is also accessible on the web.
Crossing into Canada by land border?  You'll need a negative PCR test to enter if non essential
Feb 9, 2021 - Prime Minister Trudeau confirmed that starting Monday, February 15, 2021, if you are a non-essential traveler crossing into Canada via a land border, you will need to show a 72 hour clear, negative PCR test similar to that required by air travel.  If you cannot show the test, there will be "stiff penalties and fines."   If you are moving to Canada, please take into consideration this new requirement, as well as the mandatory 14-day quarantine once in Canada.  Please note, this does not apply to essential transportation drivers and crews.
Financial Assistance update announced by Prime Minister
Feb 9, 2021 - there are a few updates to financial assistance announced today by the Prime Minister including interest-free relief on certain tax debt for one year, and new repayment qualifications on CERB.  We're getting the details sorted out and will be back with updated information as soon as possible.
CBSA has confirmed that it is business as usual for clearing customs and crossing the border.  Some members are issuing letters to their customers to take to customs with them (just in case) that states: 
"that it is a Federal requirement that an Importer of personal effects MUST arrive in person to CBSA (Canada Border Service Agency) for an interview.  The customer must carry a Passport, along with the other necessary documents, required by the CBSA to clear their goods with customs.  It is also a requirement that prior to this action, the person clearing the goods, should have been in quarantine for 14 days."
Movers be prepared...
It will be useful for your employees to have a letter on your letterhead (with a supervisor's name and phone number, or the Transport Canada / CAM letter) that indicates that they are traveling for essential work purposes. 
Continue to maintain all standard health protocols that were put in place since COVID hit, including your customer and employee health checks; and provision of masks (and other PPE), hand sanitizer, gloves and wipes.  You are mandated by the Ontario government to screen any workers or essential visitors entering your work environment.  Consider purchasing a temperature gun and record the employee's temperature each day.
If there is anyone who can work from home, please do so.
There are more inspectors from the Ministry of Labour doing unannounced workplace inspections.  Be prepared - non-compliance can result in huge fines.
++++++++++++++++++++++++++++++++++++++++++++++++++++++++++++++++++++++++++
Stay informed, stay connected:
For the latest and most up-to-date information on the novel coronavirus, visit the Government of Canada's webpage at www.canada.ca/coronavirus or call the coronavirus information line at 1-833-784-4397.
Provincial and Territorial Reopening Updates and Travel Advisories
Canada
Travel Restrictions, Exemptions & Advice
Alberta
British Columbia
Manitoba
New Brunswick
Newfoundland & Labrador
Northwest Territories
Nova Scotia
Nunavut
Ontario
Prince Edward Island
Québec
Re-opening Update (en français)
Travel Restrictions (en français)
Saskatchewan
Yukon
General Advice
CAM and the moving industry are equally concerned about the spread of the coronavirus during any step of the move process, particularly as we are now in the busy season and areas throughout the country are beginning to open up at various degrees of restriction.  We have to protect our customers, our crews and coworkers, and be especially mindful of the vulnerable sector or our community – the elderly and those with health deficiencies that make them more susceptible to viruses. 
CAM continues to closely monitor COVID-19 and the response from all health agencies, as well as the Canadian government, as they provide updates on the latest developments with respect to this virus. We are closely monitoring the risks faced by our moving crews and staff whether it be at the office, in public gatherings, in our trucks, or at the customer's residence or worksite. 
Remember, movers are open for business!  Keep in touch with your clients and remind people on social media that you can help them plan their move now, so they're ready when it's time.
Essential Services
All movers in each province and territory are open for business!  To find a certified, professional mover near you, visit CAM's home page to access our mover search function.
Moving Locally? – Moving services have been reduced. You may find that some companies are limiting the number of crews in a truck to 2 men and may have two trucks show up at your home.  You may be moving to or from an apartment or condo that restricts access for outside labourers.  As the consumer, you will have a responsibility to provide a safe environment for the moving crews to work in.  Please make sure you understand how your move will operate, so there are no surprises on move day.   Have a look at the consumer tips in our COVID Consumer Information to help you plan.
Moving a longer distance? – Moving services have been reduced. Some province-to-province restrictions remain in place.  While professional moving companies are allowed to move freely around the country, you may find yourself having to quarantine and will have to make arrangement for delivery of your household goods.  Continue communicating with your mover regarding delivery times as there may be a delay due to demand.  Read our moving information on how to plan for this relocation.
Moving into an apartment or office building? Connect with the building manager to confirm their protocols regarding entry into the building and elevator use at this time.  Make sure that you communicate clearly with your movers, so as to not cause delays or last minute alterations that could affect your moving price.
Moving to or from the USA? – Moving services have been reduced.  On March 21, 2020, Canada and the U.S. closed the border. The border remains closed until at least May 21, 2021, and likely beyond.  Only essential or urgent travel is being permitted as well as the transit of goods. Cross-border household goods transportation is "business as usual" and household movers are not being restricted.  However, be absolutely clear of the paperwork and your permit requirements you will need to make sure you can get across the border.   Without proper paperwork, moving companies cannot take the goods across.  Beginning February 15, 2021, you now need a negative PCR test before crossing into Canada.  As well, if moving to Canada, you will need to download ArriveCAN and fill out all information required prior to arriving at the border
With the current widespread outbreak of COVID-19 throughout the US, most US cities have some form of restrictions, so make sure you work with your moving company to see how that affects your move. Also communicate with your mover regarding delivery times as there may be a delay due to demand.
If you are paying in $CAD, the final charge will be based on the current rate of the dollar, which is fluctuating at this time.
On April 14th, the Public Health Agency of Canada (PHAC) issued a news release to update Canada's mandatory requirements for travellers entering Canada. The Order came into force one minute after midnight on April 15, 2020. "Certain persons who cross the border regularly to ensure the continued flow of goods and essential services, or individuals who receive or provide other essential services to Canadians, are exempt from the requirements to quarantine themselves, as long as they do not have symptoms of COVID-19 upon entry in Canada." Furthermore, "persons exempt from mandatory quarantine are still required to wear an appropriate mask or face covering upon entry into Canada and while in transit, and should otherwise respect the intent of the Order to minimize the spread of COVID-19 in Canada." Customers moving across the border into Canada are subject Canada's mandatory 14-day quarantine so they should plan accordingly for the receipt of their household goods. Further to the PHAC announcement that all essential workers crossing the Canada-U.S. border — including truck drivers — must wear a non-medical mask or face covering, Transport Canada is offering additional guidance for vehicle operators who wear face coverings to help minimize the spread of COVID-19.
Moving internationally? – Moving restrictions are in place.  All countries have some form of restrictions in place and thus there are unique challenges being experienced with their shipments.  If customers have not yet arrived, or are in self isolation, many of our members are offering bonded storage until the customers are able to clear customs and receive their shipments.  As well, many of our members are offering to keep the shipments in storage in Canada for the time being because the situation is so fluid and it is unknown what implications can be experienced at the destination. It is critical that customers keep in touch with their movers at this time and understand that countries are responding daily to the degree of virus there is, not only in their own country, but also incoming countries, and thus, there are huge variances on restrictions.
Frequently Asked Questions
For detailed Frequently Asked Questions, click here.
The Canadian Association of Movers (CAM) is a non-profit trade association that does not dispense legal or business advice. Any ideas, concepts, or theories that are discussed should be reviewed by your own legal counsel. Issues related to the coronavirus are evolving rapidly and what may be accurate today could be outdated tomorrow.
News Image