Better Business Bureau Resources
| | |
| --- | --- |
| For many years, the Canadian Association of Movers and the Better Business Bureau have worked together to inform Canadians about the importance of hiring a trusted moving company.  | Image |
This is May 2022 - and May is Moving Month!
Read this 2022 press release on choosing a mover.
Better Business Bureau warns of moving scams. The Better Business Bureau is telling people to be aware of moving scams in this short news clip from the Newfoundland Herald. (May 5, 2022)
Moving scams are on the rise. If you hire the wrong moving company, you are at risk of your property being held for ransom, damaged, dumped or stolen. Read about some red flags to watch for in this joint BBB and CAM bulletin.
Image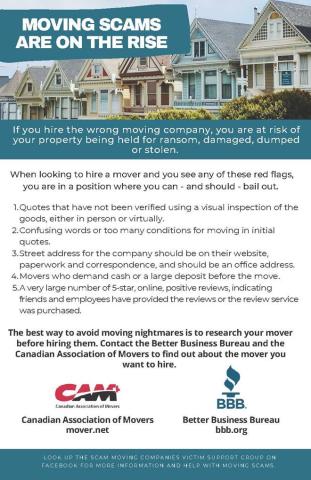 Image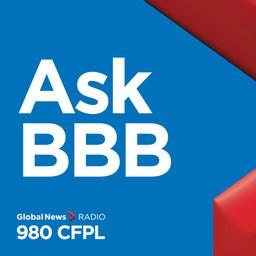 Podcasts:  Ask BBB podcast with BBB Western Ontario and CAM President Nancy Irvine 
Presented by Jim Swan and Jennifer Matthews (BBB Serving Western Ontario).
May 7, 2022 – Ask BBB Podcast - Our annual 20-minute podcast with Jim Swan and Jennifer Matthews of the BBB Western Ontario where the BBB and CAM discuss all things moving, from planning your move, to options you can ask for from your mover, to things to watch out for to make sure you have chosen a legitimate, professional mover and not a scammer.
2021 Campaign
Podcasts:  Ask BBB with CAM President Nancy Irvine 
Presented by the BBB's (Serving Western Ontario) Jim Swan and Monica Braz about May is Moving Month.
May 29, 2021 – Ask BBB Podcast - (begins at 12'10") In our last podcast with the BBB, CAM president Nancy Irvine reviews some of the key points that consumers should look into before they hire a mover.
May 22, 2021 – Ask BBB Podcast - (10'24" + 4'30") In our 4th podcast, Toronto lawyer Rocco Scocco talks about what happens when your move goes wrong and legal action is needed to settle things as well as the legal action that is required by the homeowner to get their household contents back from a hostage situation. CAM President Nancy Irvine then adds tips to avoid scam movers.
May 15, 2021 – Ask BBB Podcast – (21'3") Topics include: conducting your move during COVID-19 and additional costs, what other work movers are doing during COVID-19 and a compelling interview with Jenny Wilcockson, organizer of the Facebook Group Scam Moving Company Victim Support Group.
May 8, 2021 – Ask BBB Podcast – (10') Topics include:  reviewing finding a mover, the difference between long distance and local moving, and the moving contract.
May 1, 2021 – Ask BBB Podcast – (10' 40") Topics include:  #MayIsMovingMonth with the #BetterBusinessBureau; who and what is #CanadianAssociationofMovers; how do you choose your mover; when to book your move; and how the moving scam works.
May 19, 2021 – Global News Morning show – Moving scams.
This spring may your move be smooth.
Here is the 2021 joint statement from both organizations about moving during the pandemic.
Wednesday, April 28 2021 (Ottawa) - May is Moving Month at Better Business Bureau. Starting a new chapter of your life in a new home is exciting! Moving can also be a very stressful event. Add in a public health crisis and the stress can seem monumental and overwhelming.
That's why BBB and the Canadian Association of Movers (CAM) are partnering to share important information to consumers on how to properly plan their move.
"After speaking with many moving company owners across Canada, the best advice we can give you is to book with a reputable company as soon as possible," says Jessie St-Cyr, Media Relations and Communications Officer for the BBB serving Canada's Capital Regions and Quebec. "Moving company schedules are filling up at an impressive rate and we want to prevent consumers from turning to classified ads at the last minute, which would increase the risk of running into scammers or inexperienced movers.>
"We are proud to partner with the Canadian Association of Movers to offer advices and tips on how to hire a reliable mover who will deliver your belongings under expected conditions, especially during this pandemic."
Nancy Irvine, president of the Canadian Association of Movers says the key to a less stressful move is research. "We urge consumers to do their due diligence before hiring a mover," she says. "When trusting all of your belongings to someone, it's worth doing the background work to avoid future heartache." She adds, "The pandemic dictates that everyone considering a move this spring take extra precautions in terms of health and safety. We have developed this help sheet to assist consumers:
Help Sheet: How to Pack Up Your House and Move Safely During Coronavirus
Michael Kolberg, Chair of the Canadian Association of Movers and President of Déménagement Outaouais, recommend that consumers educate themselves in order to avoid the scam before it starts. 'Get acquainted with how rogue movers operate, in order to know the red flags when they arise - ask a lot of questions.'
BBB and CAM also encourage consumers to be cautious to avoid moving scams.
Over the past year, we have received several reports of moving frauds on our tool BBB Scam Tracker. Some consumers report paying movers three times more than what was originally agreed upon. Others have been forced to pay hundreds, even thousands of dollars more in cash because of threats by dishonest movers not to deliver the goods and furniture to their new home or to unload the content of the truck on the side of the road. Some have paid hundreds of dollars deposits to secure their reservations only to be left alone on moving day.
We found that the majority of consumers who have reported these scams have unfortunately come across scammers through classified ads on Kijiji and/or Marketplace, advertising very low prices.
When looking for the right mover, BBB and CAM suggest that you check the company's rating on BBB.org and its status with the Canadian Association of Movers. Both organizations provide reliable and relevant information on moving companies and contractors.
About BBB: For more than 100 years, Better Business Bureau has been helping people find trustworthy businesses and charities. BBB is a nonprofit, business-supported organization that sets and upholds high standards for fair and honest business behavior. Visit BBB.org for more information.
About CAM: Canadian Association of Movers (CAM), Canada's only moving industry trade association, is working hard to ensure that consumers receive quality, professional services, by setting ethical standards, using trained staff and equipment, and being attentive to consumer needs and existing legislation. CAM is identifying rogue movers that are cheating and abusing Canadian consumers and helping consumers find trusted, reputable movers.
Other Interesting Articles
June 2020 - Know Your Mover: BBB study reveals scammers price gouge, take belongings hostage and destroy goods
Released on June 30th, 2020, CAM was proud to help assist with connecting the U.S. BBB with the right people in the industry, the initial research, and editing on this study. Although this is USA-focused, we were able to get a few things added to 'Canadianize' it for the BBBs above the border.
Consumer beware! Do you research and find #TrustedandReliableMovers who are Canadian #CertifiedProfessionalMovers. It's your responsibility to make an informed choice. It's our responsibility to help you make it.
Here's the BBB report.
May 2020 Campaign: Make the Right Move During the Pandemic
Better Business Bureau (BBB) and the Canadian Association of Movers (CAM) provide tips for hiring a mover
May 16, 2020 - Topics include: the pandemic, scam movers and general moving tips. Listen to what they discussed.
Other Resources
To check out a company through the BBB, click here
To Find a Trusted and Reliable Mover from CAM, click here